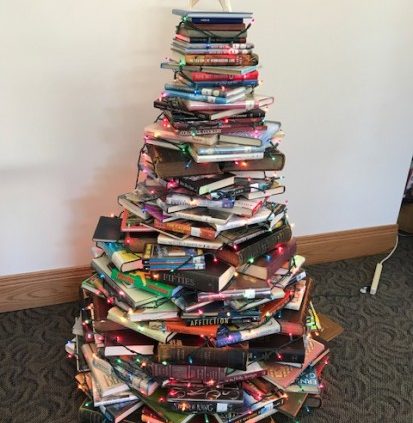 There are a few things that mark the Christmas season for me. The first, of course, is finally getting up the decorations. To make that easier, I invested in a decent fake tree a few years back, which means I don't have to worry about how to get a tree home (after the year I dragged a 5 foot tree a mile home by myself, only to get the net wrapped around it caught on the hanging chandelier in the entrance of my building, leaving me holding it above my head until my neighbor came home and saved me).  The second is starting my usual list of holiday shows and movies, all of which will culminate on Christmas day when I host a non-traditional Christmas movie marathon (which always ends with Die Hard).
And then of course, there are the Christmas books and stories I read. This is the perfect season to curl up with a good story. I tend toward genre fiction — mysteries, fantasies, and science fiction stories — since they help me tap into the various moods of the season. Christmas, for me, isn't a time of just happiness. It is also a time w
hen I reflect on all those I'm not with, either because they have passed on or because they are so far away. I rely on stories to help me get through the season, both the grief and the joy. Books and stories have always been reliable sources of support and distraction for me. I will be picking up familiar favorites, such as Hogfather by Terry Pratchett, and A Redbird Christmas by Fannie Flagg. It is always a good time to dive in to The Hobbit by J.R.R. Tolkien, or to revisit the Harry Potter series by J.K. Rowling or The Song of Ice and Fire by George R. R. Martin.
This year, I am super excited to have put out my own holiday, The Christmas Spirit (which comes out in print and digital today!!) as well as pick up my copy of fellow Stiletto Gang member Bethany Maines' story Blue Christmas. I thoroughly enjoyed her holiday story last year, Oh, Holy Night, and can't wait to dig into this year's holiday mystery action romance.
In the meantime, I wish everyone happy reading this holiday season, and if you're so inclined, check out my novella, The Christmas Spirit (details below) or Bethany Maines' Blue Christmas.
In this dark comedy inspired by Charles Dickens' A Christmas Carol, Charlene Dickenson has just discovered that she will spend her after-life as a holiday spirit. She must do whatever it takes to become a Ghost of Christmas Past, Present, or Future—helping mortals transform their lives like Ebenezer Scrooge—or end up like Jacob Marley and spend her after-life in chains.  Stuck in a place where the Christmas music never ends and the holiday treats will never make you full, Charlene is going to have to figure out how to let go of her mortal life and embrace the Christmas Spirit.
Blue Jones just stole Jake Garner's dog. And his heart. But technically the French Bulldog, Jacques, belongs to Jake's ex-girlfriend. And soon Jake is being pressured to return the dog and Blue is being targeted by mysterious attackers. Can Jake find Blue and Jacques before her stalkers do? For Blue, Christmas has never been quite so dangerous.  For Jake, Christmas has never been quite so Blue.
https://jennaephillippe.com/wp-content/uploads/2018/12/Book-Tree.jpg
550
413
jmphillippe
http://jennaephillippe.com/wp-content/uploads/2015/02/GEARS2-340X156.png
jmphillippe
2018-12-04 01:07:20
2018-12-04 01:07:56
Getting into the Spirit