A paranormal holiday adventure.
Thirty-something New York City native Charlene Dickenson has never been good at letting things go, which is why she finds herself mildly stalking her ex-boyfriend after she spots him on her way to work. When this leads to her untimely death in a Christmas-related accident, she discovers a whole new world in the Hall of Christmas Spirits. Now she's stuck in a place where the Christmas music never ends, mistletoe hangs in every doorway, and the holiday treats will never make you full. As if learning the new rules of her afterlife isn't hard enough, Charlene must do whatever it takes to become a Ghost of Christmas Past, Present, or Future—helping mortals transform their lives like Ebenezer Scrooge—or end up like Jacob Marley and spend the rest of her existence in chains.  But letting go of her pre-ghost life is harder than Charlene thought, and she can't help but break all the rules in her attempts to hold on to who she was. In this dark comedy inspired by Charles Dickens' A Christmas Carol, Charlene is going to have to figure out how to let go of her mortal life and embrace the Christmas Spirit.
Perfection can haunt you.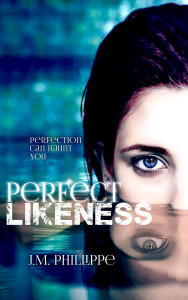 Allyson Smart is the perfect woman — in her dreams. In real life, Ally has to deal with the clumsiness of her size-16 body, the good intentions of her over-achiever best-friend, and the condescending attitude of her too-cool little sister. Ally strives for the kind of un-achievable perfection she has in her fantasies: amazing body, clever come-backs, and passionate romances. But when the fantasized version of herself shows up in her bathroom mirror, calling herself Allison (with an i because she says it's prettier), Ally discovers how cruel perfection can be. The fantasy girl wants to become real, and when perfection walks the streets of Ally's small LA-suburb hometown, the resulting ripple effect threatens to cost Ally her first real romance — and job, and friends, and everything else important to Ally. In order to save herself, Ally must find the courage to overcome a supernatural manifestation of perfection and fight for the life she never knew she wanted.